Well, immediately after leaving Canter's at 3am, I drove to Vegas for the convention I was going to and got back late sunday night, so I'm just now getting back to the forum.
Someone upthread mentioned Rian paying for everyone's dinner. Small clarification is that Joe paid for everyone at our table AND the tip (which he implied would be generous). Anyways, to echo everyone else before me, it was an incredbily enjoyable evening (/early morning). At one point at dinner, I almost forgot that we were eating with Joe and Noah,
the actors
. Felt more like Joe and Noah, guys we just happen to meet for dinner. But then my inner film geek rushed back in and my ability to speak coherently diminished.
Was great meeting so many people from the boards. Dave takes home the award of most dedicated Brick fan, in my opinion. It was a funny coincidence that we were the two that wear our pant cuffs flipped and ended up sitting next to each other (bought my ticket in advance right before he did apparently).
I didn't get a chance to meet Rian opening night after the Q&A because I had to be somewhere after the movie so it was great to finally get the chance. I can't remember if I told you in person or not, Rian, but thanks for being so involved with all of us Brick addicts. It's such a rare thing and it's very much appreciated. I'm going to stop gushing now and put in a few pictures. I had actually just bought the camera I had earlier in the day so I was still learning the ins-and-outs. I only had a few come out looking decent.
kingofkoins and existentialistdilettante:
Me blinding Joe and Noah cause I didn't know I had the flash on: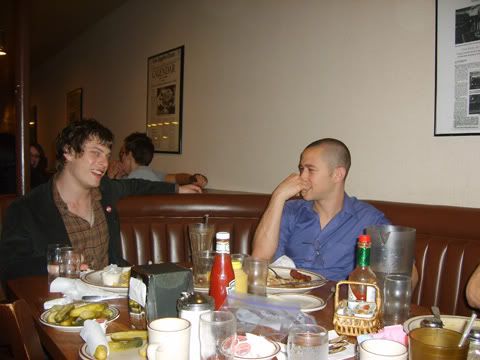 No flash this time, but a little blur:
Me not feeling short: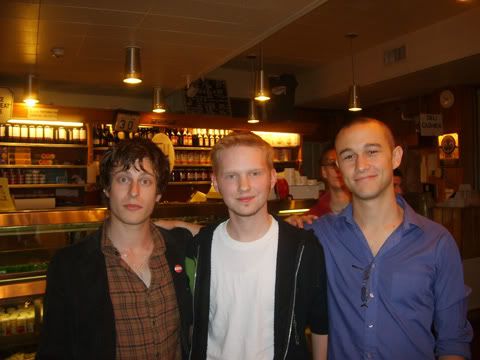 EDIT: While I was in Vegas, I think I told at the very least six people about thursday night and had these pictures still in my camera to show them and got all of them to believe now that they MUST see this movie.